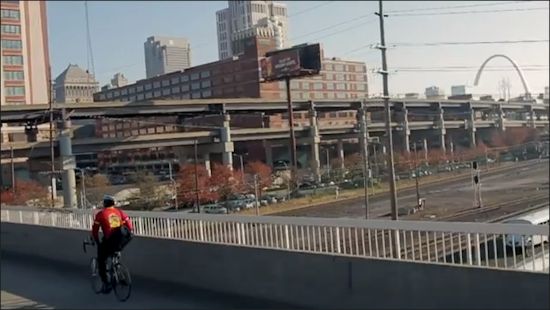 Back in 2005 Lewis worked with then Congressman Russ Carnahan, being long-time friends and cyclists, to establish Bike St. Louis. Lewis  felt it was time to create a way to connect the parks in the City for cyclists and to provide safe  and environmentally friendly commuter route options.  Lewis also believes that seeing people enjoying outdoor activity, such as cycling, throughout a neighborhood gives a positive vibe to residents and visitors.
After months of planning with Alderpersons, constituents, City Agencies, and local bike organizations, the first 20 miles of continuous on-street bicycle routes were unveiled in the Spring of 2005. Signage on the routes and provides point of interest directions and distances. In addition an educational program was created and presented to over 30 classes of middle school students.
Bike St. Louis has now grown to over 135 miles of contiguous bike lanes for residents and visitors to enjoy.  The routes have been planned to connect parks, tourist attractions, and other areas of St. Louis to allow the full experience of our city via bicycle.
Do you like this post?